As the name of the blog might suggest we are a little obsessed with coffee here at Fuelled by Latte. Nespresso is my coffee machine of choice but I've been conscious for a while that the aluminium coffee pods (whilst recycled by Nespresso if you send them back) are not the best idea.
I'm also aware that a lot of people don't actually send them back to be recycled and they end up in landfill. So I was really interested when I heard about a compostable Nespresso compatible coffee pod by Coffee & Kin. and when they offered to send us three boxes in exchange for a review we said yes.
So what are they?
The World's Kindest Coffee Capsule?
Coffee & Kin claim to be producing "The World's Kindest Coffee Capsules", Coffee & Kin produce 3 blends of eco friendly compostable coffee pods.
Discover pods
Tasting notes are: Candy cane, cherries and maple syrup
In the DISCOVER pod, you'll find the flavour of maple syrup from the Nicaraguan Matagalpa and El Salvador's caramel. But uniquely, there is an essence of cherry flavoured candy cane embedded from the combination of El Salvador's velvet brightness and Indiano's hint of cherry. You might also find a touch of mint emanating from its spiciness!
I'm never sure about descriptions like this but I really liked it, and although I liked them all, the Discover pod was my favourite.
Escape pods
Tasting notes are: Toffee, strawberry and hazelnut
ESCAPE's pleasant nuttiness is derived from all three coffees in the blend. Colombia's peach and Guatemala's citrus fruit tones actually combine to create a nicely discernible strawberry after-taste. But from the attributes of cocoa, cream, smoke and nuts, the blend is wonderfully toffee flavoured from the very first sip.
Explore Pods
Tasting notes are: Red grape, raspberry and dark chocolate
EXPLORE brings a red grape flavour from the stone fruit of the Guatemalan foundation of the blend. Then the combination of sweet complexity from the Brazil Guaxupe, and the balance of the Honduras Estrellas, provide the blend with its dark chocolate notes and hint of raspberry.
Why are they 'kind'?
Because –
they are totally plastic free and biodegradable – designed to be placed in your compost bin after use.
the capsules contain ethically sourced coffee
from the sale of each capsule 1p is donated to the Blurt Foundation, which helps young people and adults with depression.
1 in 3 households own a pod machine. The problem is most companies only offer plastic and aluminium options that take hundreds of years to decompose. Coffee and Kin are proud to offer an alternative solution.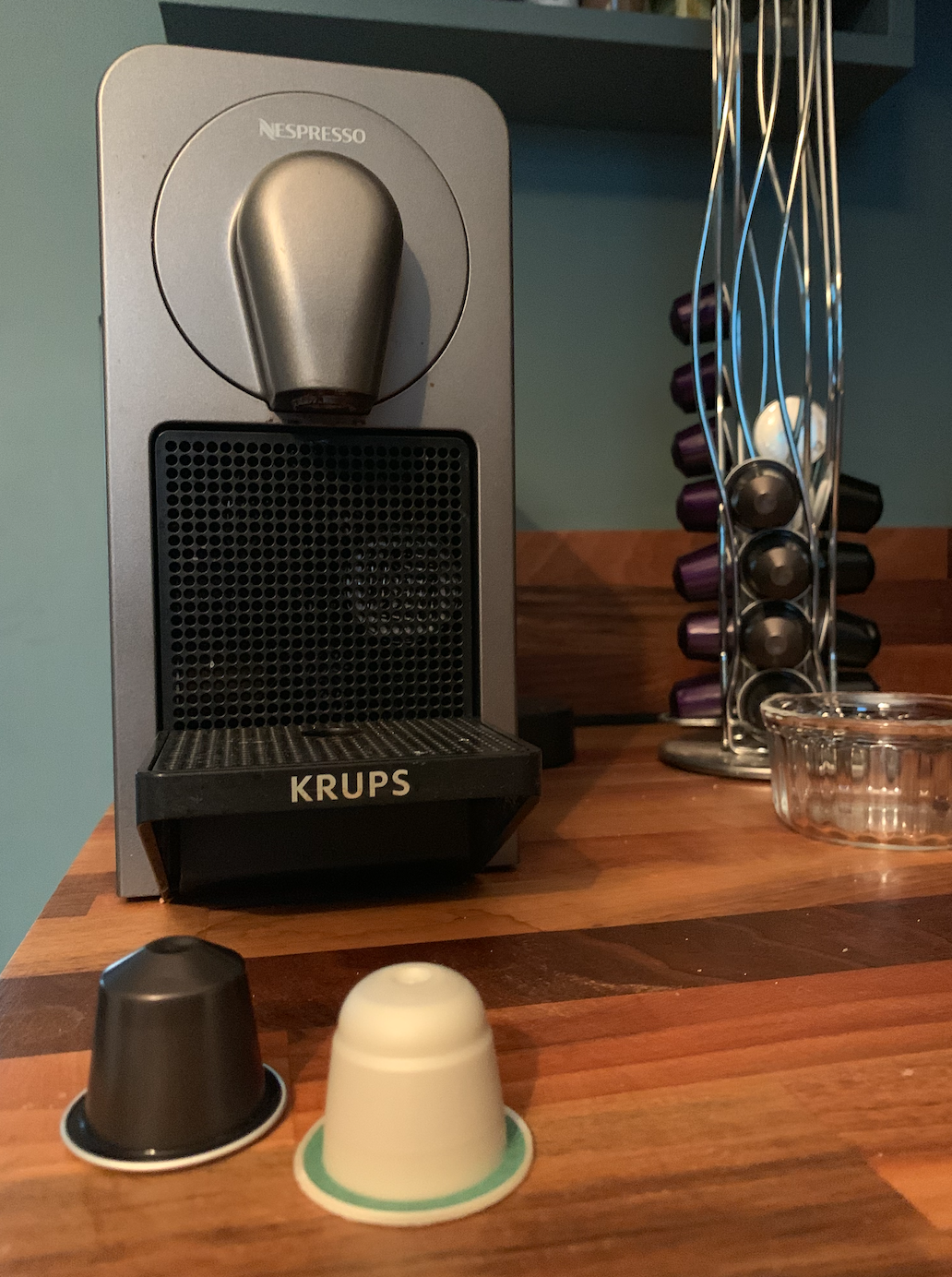 So is there a downside to the compostable pods?
Well yes sort of.
The coffee pods are plastic free/compostable capsules and not aluminium. As Nespresso machines are originally calibrated for aluminium pods, you can experience differences in the pour when you use them.
For us the amount of coffee that came out when I pressed the usual button wasn't enough and I didn't seem to be able to change that. It would inevitably lead to me using two pods which isn't a great solution.
I mentioned the issue to the team at Coffee and Kin and they explained that you can recalibrate some machines to fix this. I found the following tutorial on you tube. It doesn't work for my machine but will work for lots of the more common ones.
I'm going to continue to try and find a solution for my machine as I'd love to carry on using these.
You can check out more of our eco friendly ideas here!
To try them for yourself, why not head to the Coffee & Kin Website. You can either buy a box on its own, or sign up to a subscription service.