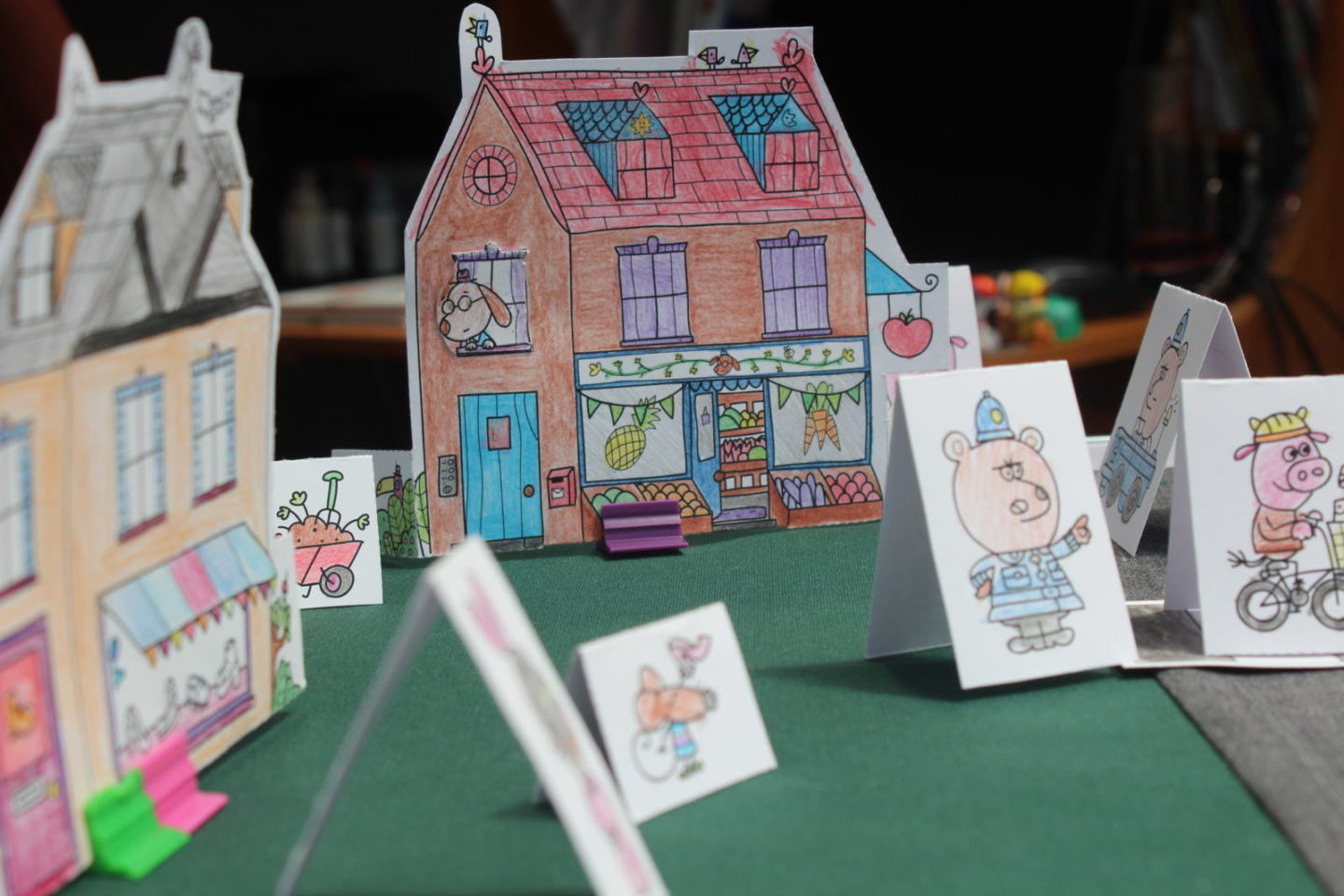 It's been a couple of weeks since we were sent the My Little World Village High Street kit to review. My Little World is a new craft toy where children use the simple tools of drawings and colouring crayons to create an exciting role play world. It is made completely of cardboard cut outs, it is eco-friendly, and to be honest it feels like good old fashioned fun!
How does it work?
The children colour in the lovely picture cards that include buildings, characters and some extras. The Village High Street kit includes a bakery, grocers, post office, shoe shop, cafe and police station. The characters work in the shops, or are shoppers, and to help fuel the children's imagination there is a short snippet of information on some of the cards to tell you about them. Click here for more information about the cards.
I love that the character cards are double sided with slightly different pictures so you can create different scenarios. E.g. Carlo Cini is working hard in his coffee shop. There are plenty of customers and he doesn't see the little dog tied up to the table in front of him. Whoops he trips over and sends a cup of coffee flying off his tray. It smashes all over the floor!
The toy has been a hit with the whole family. My eldest, age 8, prefers doing the colouring and cutting out to create a static scene. The younger two have helped out a little, but most of all they've had great fun playing with their big brother's creation! My youngest, age 4, enjoyed showing it off to her best friend when he came round for a play date. They played with it together; happily chatting away about what was happening in their little story world.
Our Verdict!
In our opinion My Little World is the perfect entertainment on a journey or at home. For the price of a magazine you can give the children something that will keep them busy for longer, encourage them to be creative and also gives them chance to develop their colouring and cutting skills. We also give it a big thumbs up for it being completely recyclable too!
There are 6 sets available: Village High Street, Emergency Services, Space Station Foxtrot, Christmas Time, Fairy Village and Airport. They cost £4.99 and are available from http://www.mylittleworldcraft.co.uk/
AD #Gifted We were lucky enough to be given the My Little World Village High Street in return for this review. However, all views and opinions are our own.
Why not PIN this My Little World Review for later?