When the weather is beautiful, a day at the beach is fabulous fun for all the family. But what about those days when the sun isn't shining quite enough to be racing in and out of the water?
More often than not when we visit the beach at Whitby we find the North Sea is too cold to play in, so we have found some alternative beach activities for the kids.
The usual things we do are rock-pooling, crabbing, shell or fossil hunting and building sandcastles. However, after a while the kids do lose interest in these things, especially if it's not so warm!
Here are our favourite alternative ideas for Games and Activities to do with the Kids at the Beach!
Target game: make a target by drawing in the sand and agree on a points system. Throw pebbles or shells at the target and add up the points to find a winner.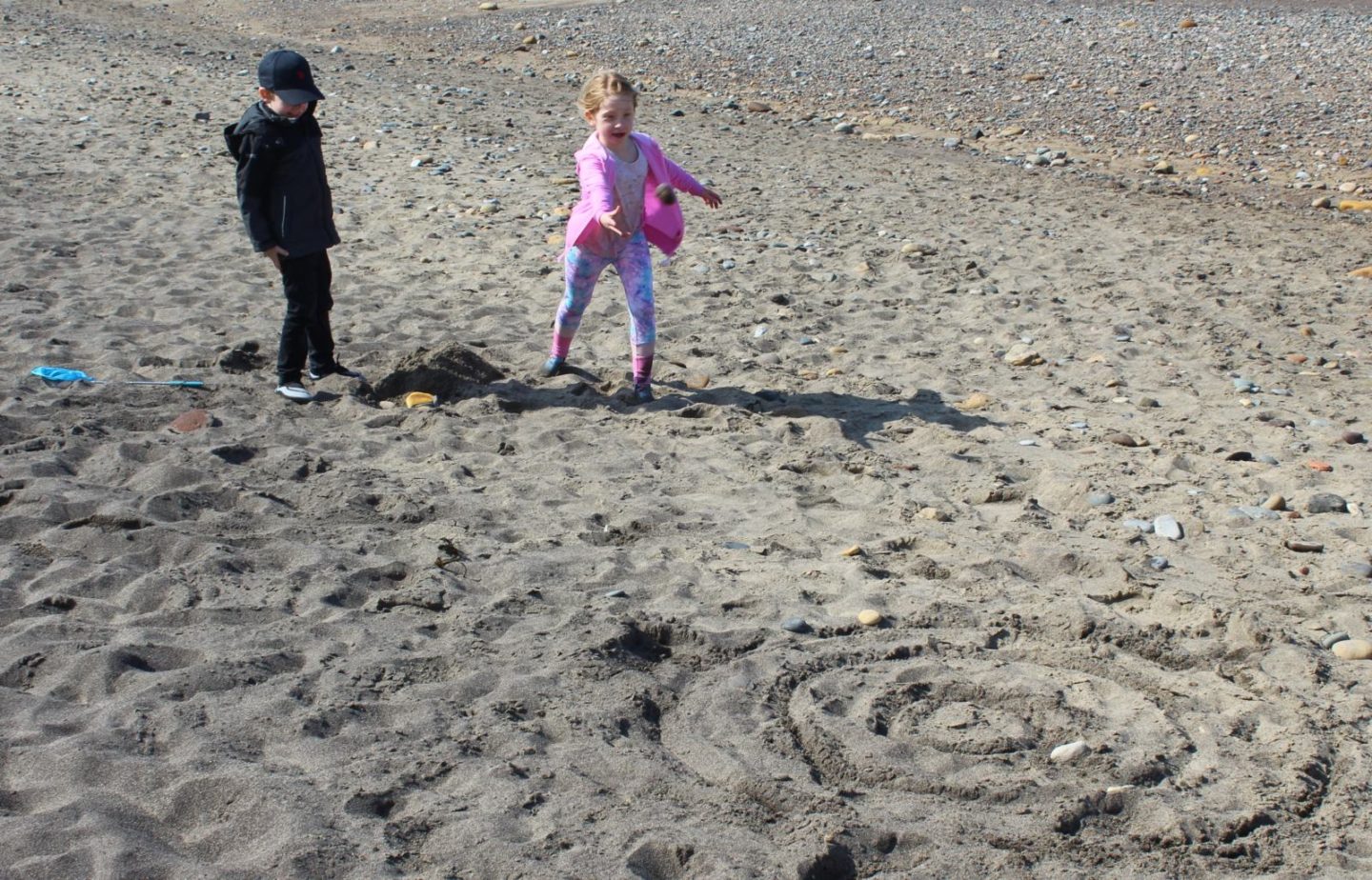 Hopscotch: works better on damp sand, draw a hopscotch grid in the sand and use pebbles or shells as markers.
Water bucket relay: this is a great little competitive games for if you have 4 or more kids with you. You need 2 buckets per team, fill one with water and place them about 15m apart. Teams have to transfer the water from their filled bucket to the empty bucket without spilling it all. The team with the most water at the end wins!
Scavenger Hunt: a simple way to do this is to make a list of things you can typically find at the beach and challenge the kids to collect them all in a bucket or bag. If you search online there are plenty of printable versions, such as this one from buggyandbuddy.com, the only problem with these is that they are generic and might not fit your local beach. Or you could go for something a little different like this Dino Ranger Treasure Hunt which is really easy to set up if you have another adult to keep the kids occupied while you set it up.
Obstacle Course: create an obstacle course for your kids to complete with things like walking on stepping stones, carrying buckets of water without spilling them, walking with a ball between your knees, jump over a towel, crab walk between 2 markers, hop, skip, jump, the list is endless! If there are lots of people then turn it into a relay race!
Game of Tig: give your usual game of tig a beach theme with sharks chasing fish. or turn a game of Stuck in the Mud into Octopus Tig, where the person caught has to wave their arms (tentacles) until they can tap another player to be released.
Tug of War: a great game for lots of children to play. Tie beach towels together to create the Tug of War rope!
Sand Art: create a master piece out of sand and bits and pieces you can find along the beach e.g. pebbles, sticks, seaweed, shells and rocks. Remember to photograph their work!
Sun Clock: if the sun is out it can be good fun and really educational to create a sun clock using pebbles and a stick. Put your stick in the ground in the middle of where you want to create your sun clock. When the hour is at o'clock put a pebble directly in line with the shadow. Place 11 more pebbles in a circle around the stick, ensuring they are an equal distance apart. You could write the number of the hour in the sand or with a bit of chalk on the pebble. Check back each hour and adjust the marker pebbles as necessary. This is a great activity for reinforcing telling the time with your 6-11 year olds as you can look how much the shadow has moved when the time is quarter past, half past and quarter to the hour.
Build a Sand Man: as it sounds, a snow man made of sand instead! Decorate with sunglasses, hat and beach towel around his shoulders.
Fly a Kite: either make a kite at home or buy a kite and enjoy hours of fun on a breezy day teaching the kids how to fly a kite.
Why not PIN these ideas for next time you go to the beach on a less than sunny day!