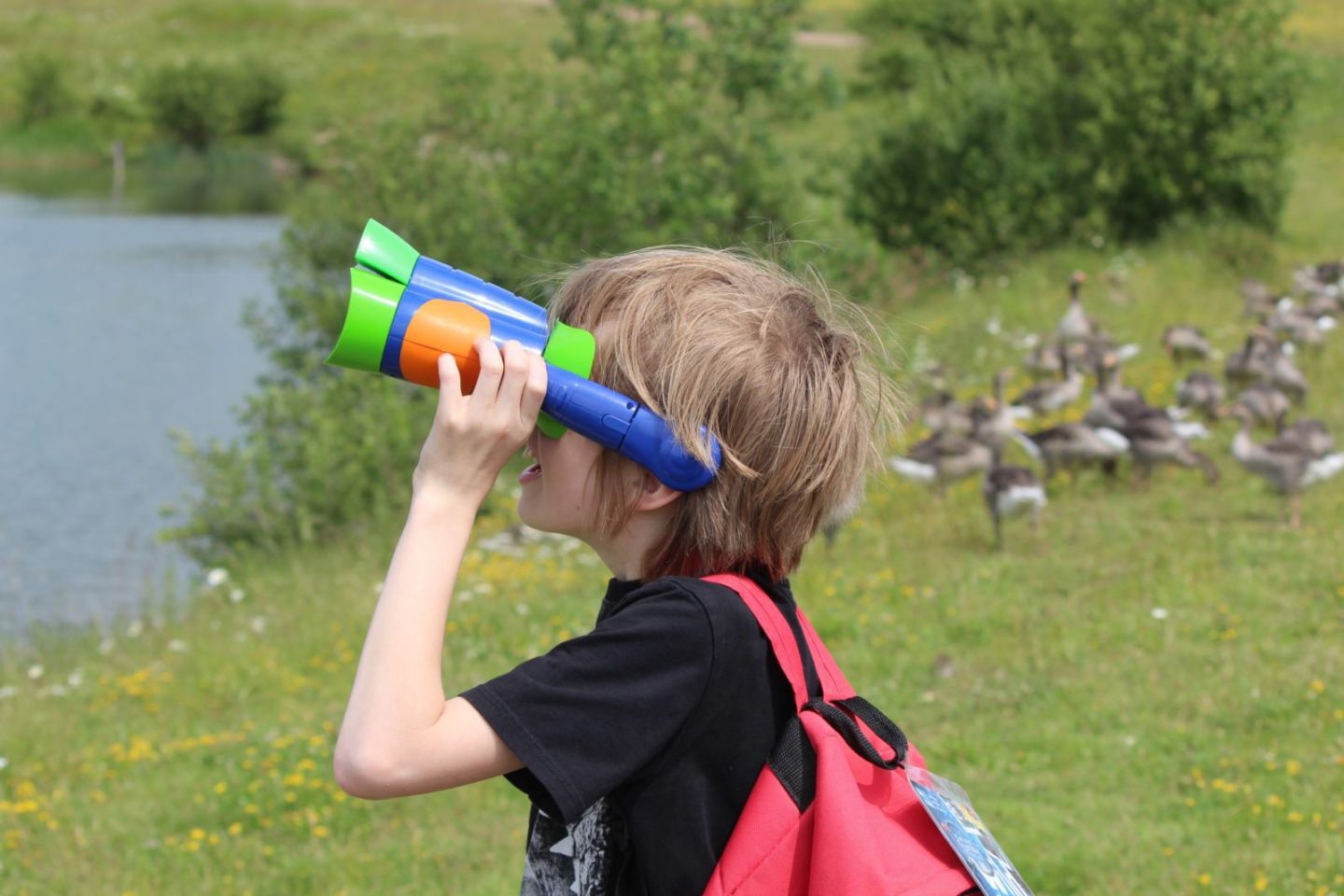 When we decided to go to an RSPB nature reserve to road test our super new Geosafari Jr Kidnoculars Extreme, I didn't expect that the children would enjoy their day out in the wild quite so much!
We saw a fantastic array of birds like common terns, black-headed gulls, grebe, Canada geese, swans, etc, but it was the bug hunting in the wildflower meadow that really captured the children's attention! The Geosafari Jr Kidnoculars Extreme helped the children to get a closer look, and listen, to the bees, damselflies and butterflies on the plants, and our RSPB Wildlife Explorer's Handbook (sent free to members) enabled them to identify creatures and record their findings.
Geosafari Jr Kidnoculars Extreme are ultra child-friendly binoculars that are made especially for kids age 5-9 years old. The wrap around style of the eye section fits your child's face comfortably, keeps their head in the right position and the binoculars steady. The eye section also blocks out peripheral vision making it easier to see. Kidnoculars provide focus-free 3x magnification which means children can just look through the binoculars and the view will already be in focus. They also have in-built headphones which provide audio amplification.
Geosafari Jr Kidnoculars Extreme are a fantastic example of a STEM toy. Having them to use thoroughly engaged my children in looking at nature. They asked question after question about what they could see and hear. Sharing the Kidnoculars between them encouraged team work and I loved how my bigger boys were keen to help out their little sister.
I am a huge fan of toys that encourage STEM learning. STEM is an acronym for Science, Technology, Engineering and Maths. STEM toys don't necessarily focus on subject knowledge, they help build the skills children need to do well in these subjects.
These key skills include:
Curiosity
Problem Solving
Inspiration and Engagement
Persistence to overcome problems
Teamwork and Cooperation
Patience
As a teacher I know schools are working hard to provide curricula that develop these skills but it takes time, opportunity and reinforcement. Encouraging this sort of exploratory learning at home can give your child a huge boost academically.
In the long term STEM toys can prepare children for success in areas like robotics, computing, chemistry, engineering and natural sciences.
So what other activities would I recommend the Kidnoculars for? Well next time you go to a castle or a cathedral take them with you so your child can get a better view of things that are high up. Or perhaps take them to the beach to look out at for things at sea. They are also perfect for role play activities such as safari or jungle explorers.
We found that the younger of our two children, age 6 and 4, got on really well with the kidnoculars. They were spot-on for their age. Our 8 year old used them but he is probably ready for the next stage now. What you have to remember is by introducing children to something child-friendly and that they can use, they will feel a sense of satisfaction from using it. Our 8 year old enjoyed using the kidnoculars but after a while he realised he couldn't see as far as he wanted to. He was completely focused on the task and so actively sought a way to find out more – namely pinching granddad's binoculars! But that's the whole point of STEM toys and introducing them at a young age, it gets children wanting to find out more about the world around them.
We wouldn't hesitate to recommend the Geosafari Jr Kidnoculars Extreme here and are thrilled that there are many other STEM toys that Educational Insights make. The only thing we didn't get on with was the break away strap. As the binoculars are quite big, and therefore have some weight to them, the break away strap just kept coming apart. It was also too thin and the children didn't find it comfortable to wear around their neck so we just took it off. The binoculars are so sturdy we decided they would be unlikely to break if dropped from the height of a child.

Geosafari Jr Kidnoculars Extreme are available to purchase from Learning Resources UK. Click the link to find out more.
AD #gifted / We were kindly given the Geosafari Jr Kidnoculars Extreme by Learning Resources UK in return for a review but all views and opinions are our own.