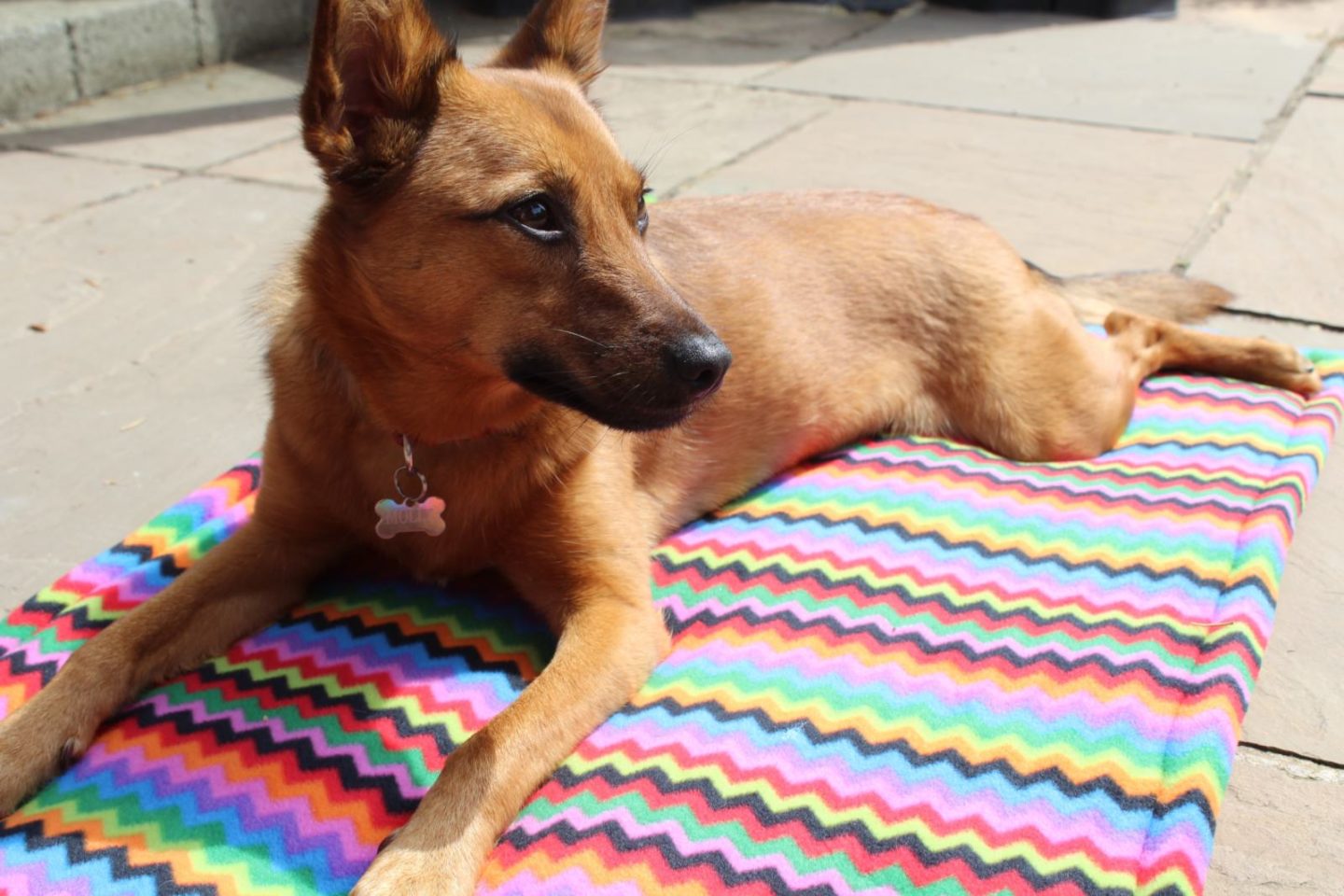 We seem to go through dog beds in our household at a surprising rate. She likes to chew them and nest in them getting them just right for how she wants to settle down. I always feel a touch embarrassed when we go to other people's houses and she needs to settle down and have a rest, then I pull out a tatty old piece of vet bed and hair floats off all over the floor! So I've ended up keeping a special mat aside for those occasions.
I decided to start making my own mats mainly because it's cheaper than keeping buying the vet bed, but also I enjoy doing quick projects that produce a unique product. I really like those gorgeous bright patterned fabrics you can find in haberdashers rather than the more conservative colours many dog's beds are made of. This design has a waterproof backing, a bit of padding and a lovely fleecy top, which my dog seems to love.
This bed is not that thick so it is probably not an everyday bed, but it is great for putting on the sofa in that caravan (our pooch is allowed on the sofas!), or on a chair at home. It fits nicely in her medium sized cage and rolls up small for easy transportation when we are off visiting other people.
What you need for a medium size bed:
1/2 metre fleece material (approx £7.99 per metre)
1/2 metre ripstop tear resistant waterproof polyester (approx £4.25 per metre)
1/2 metre fire retardant polyester wadding (approx £9.95)
In total the mat cost me £22.19 but there is enough for 2 mats making each one around £11.10 which is much cheaper than I've seen other travel beds for.
How to Make a Fleece Dog's Mat for Travelling:
Cut your fleece and ripstop polyester material to size. I made mine 100 cm x 50 cm.
Cut your wadding to size so that it is 4 cm shorter in length and 4 cm shorter in width (96 cm x 46 cm)
Pin the right sides of the fleece and ripstop polyester together and sew using a 4 mm running stitch. Leave a seam allowance of 2 cm and ensure you leave a gap of about 30 cm along one of the short edges. I used a thick thread so it was a bit tougher.
Tip: As the materials will slip against each other, take care to pin them well and sew at a steady pace.
Sew around the dog bed again to give extra security. I chose this fagoting stitch because I like it and it's tough but an overlocking or zig zag stitch is good too.
Cut the corners off to avoid bunching in the corners when you turn it right side out.
Turn it right side out and insert the wadding. Smooth it down and pin the material together catching the wadding inside it all around the perimeter of the mat.
Sew up the gap in the material using ladder stitch (blind stitch).
Machine stitch all the way round your the edge of your dog bed leaving a 2 cm seam allowance. this ensures you catch the wadding in the stitching and this holds it in place inside the mat. I used a 4 mm running stitch for this.
Your dog mat is now finished! It is washable but take care to use a low temperature and do not tumble dry or iron the bed as it will melt!
Let us know how you got on with making your Fleece Dog's Mat for Travelling. We'd love to see your photos!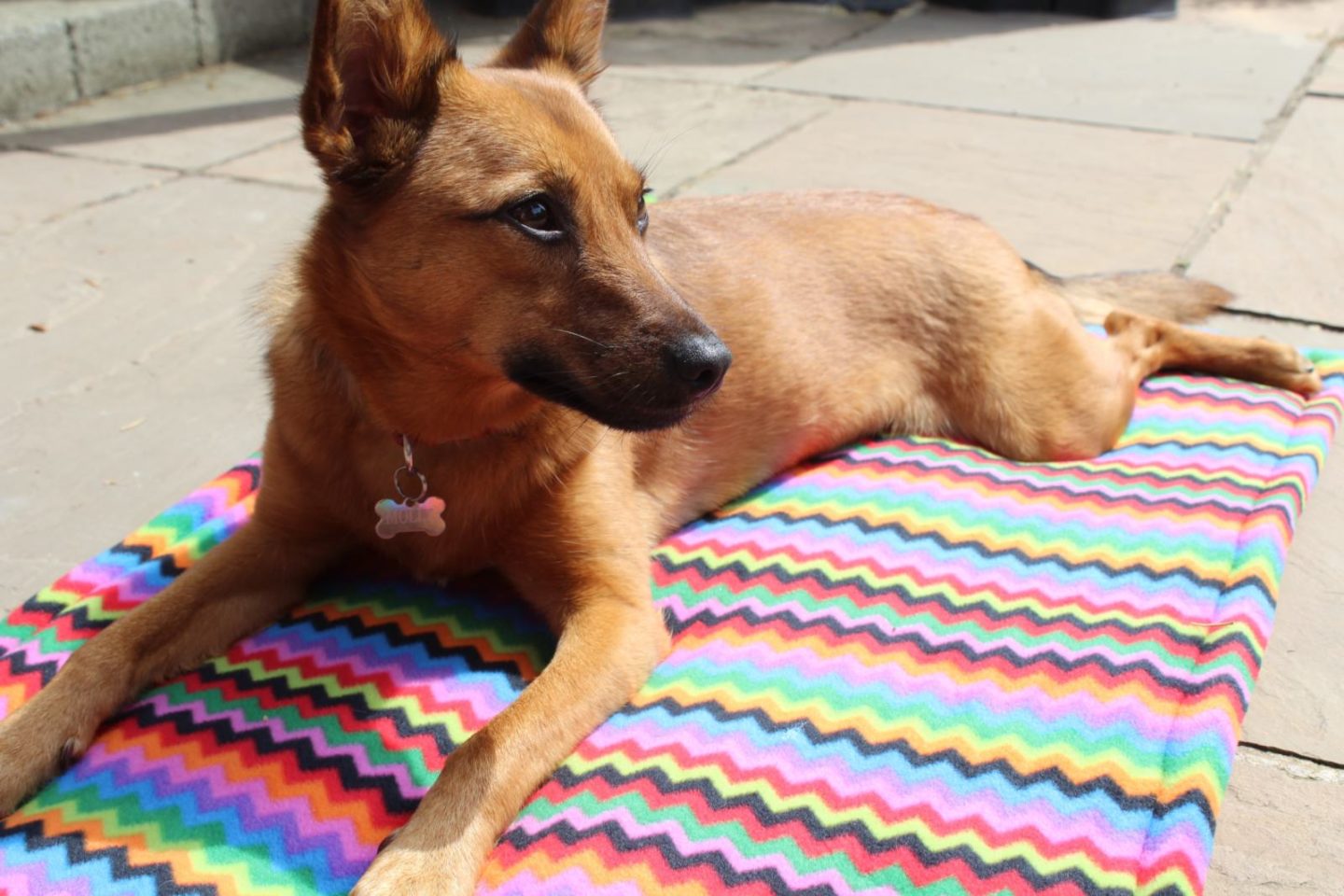 Why not PIN this idea so you can find it later?