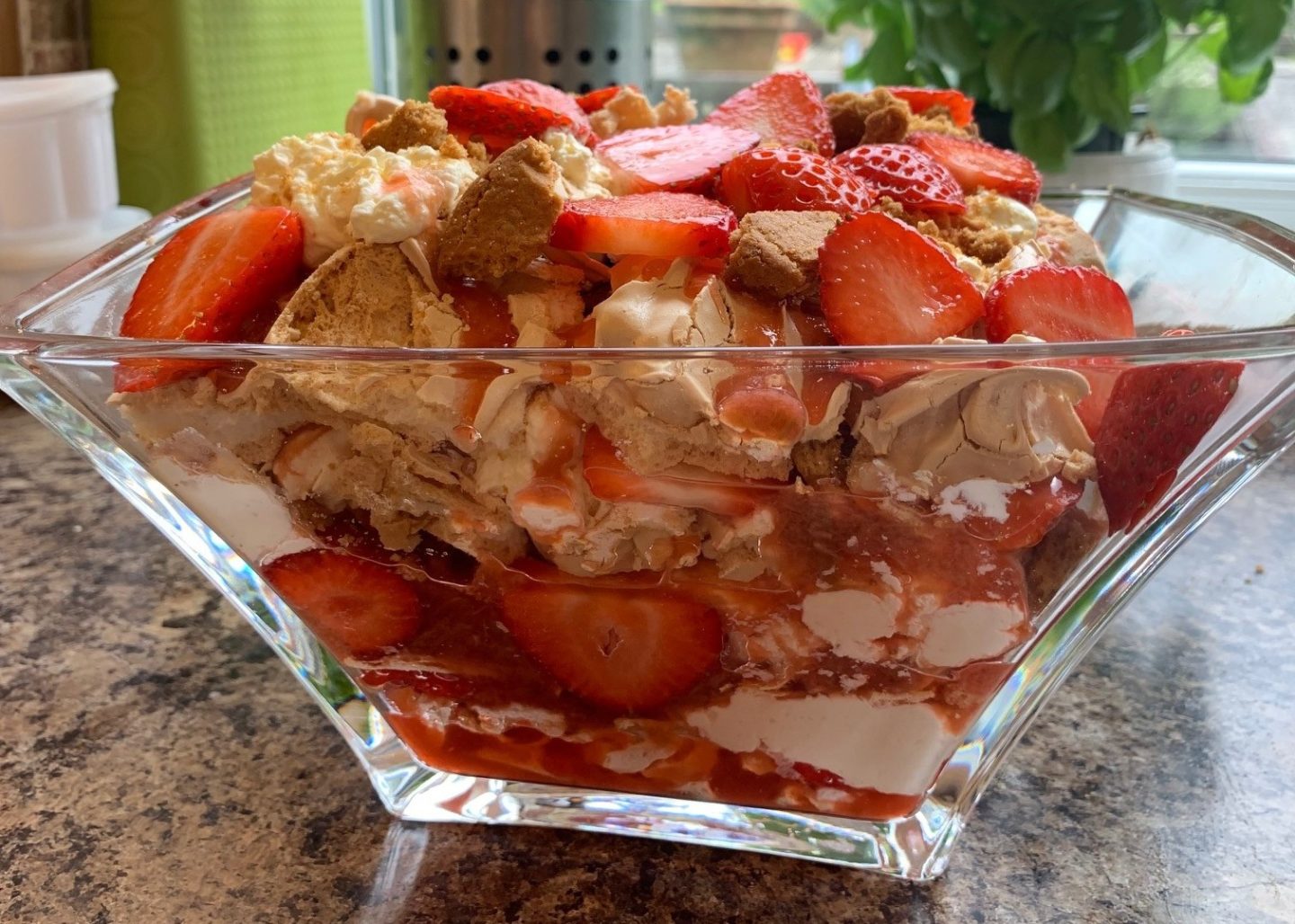 A few of weeks ago I began experimenting with rhubarb recipes. Mum had given me a huge handful from her garden and I wanted to do something to honour the time that had been spent growing it.
I tried chutney, jam, rhubarb and apple turnovers but unfortunately they were all met with a luke warm reception from the kids. It soon became clear that in order to wow my chief testers I was going to need some bolder ideas.
There are hundreds of rhubarb recipes out there and so I needed to narrow the parameters a bit. I decided to concentrate on our favourite family desserts and our very favourite flavours. I finally settled on recreating a dessert that my mum does so well, but revamped it so it had a new vibe. Here's introducing Rhubarb, Strawberry and Ginger Eton Mess!
Ingredients:
4 large eggs
160g caster sugar
1/2 tsp vanilla essence
200g rhubarb
500g strawberries
300 ml double cream (or more if you especially like cream!)
6-8 Ginger nut biscuits
1 tbsp Ginger cordial
Method:
First make the meringue
Separate the yolks from the eggs (unfortunately the yolks are not used in this recipe but we saved them and used them in pancakes for breakfast!)
Whisk the egg whites fast (much easier with an electric whisk!) gradually adding in the sugar and the vanilla essence. Stop when the egg whites form stiff peaks that hold their shape. They should look glossy and gorgeous! Turn out on to a baking sheet lined with baking parchment and spread out so it's about 1 inch thick. Bake in the oven at 130c for 1 hour 30 mins. Leave to cool completely before you use it in your dessert!
Secondly make the fruit compote
Chop the rhubarb into 1 inch pieces and put in a pan over a low heat. Hull the strawberries and add 200g of them to the pan. Add 100g caster sugar and bring to boil. Simmer gently for 20 minutes or until the fruit has broken down and the liquid has reduced a little. Remove from the heat and allow to cool (it will be super hot so be careful!). Mash/blitz the fruit or leave as chunkier pieces if you prefer.
Final preparations
Put 6-8 ginger nuts in a bag or between two pieces of baking parchment and bash them with a rolling pin until they break into large crumbs.
Whisk the double cream until it thickens into a scoopable consistency where it doesn't pour off the spoon.
Break your meringue up into bit chunks, either by hand or cutting it up with a knife. Hopefully it'll be deliciously crisp on the outside and chewy in the middle.
Last step: assemble the Eton Mess
There's no precise way of doing this bit, hence the 'mess' part of the name! Have fun with this part layering up chunks of meringue, dollops of cream, small drizzles of ginger cordial (around a few teaspoons in total for the whole dessert), sprinkles of crumbly ginger nut pieces and chopped strawberries from the remaining 300g. Save some of the strawberries for decoration on top.
Store by covering and keeping chilled (if your family don't devour it all in one sitting!).
Why not PIN this Rhubarb, Strawberry and Ginger Eton Mess recipe for later?